Russian judge affirms arrests of three suspects in Nemtsov murder case
Comments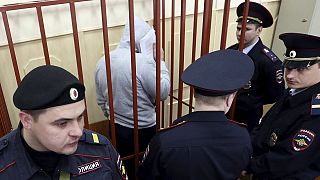 A Russian judge who has been considering the legality of three arrests in connection with the murder of opposition leader Boris Nemtsov has ruled the men must remain in custody until a later hearing.
All three who are ethnic Chechens claim they are innocent.
Moscow authorities clear away Nemtsov memorial, but his followers keep putting it back http://t.co/FKRbxpXn3Mpic.twitter.com/xNwmEPQ7Vw

— The Economist (@TheEconomist) April 2, 2015
Meanwhile Zaur Dadayev who is one of two suspects to have been charged with the murder has withdrawn his confession alleging torture.
Nemtsov was shot dead on the night of February 27 within sight of the Kremlin. It is the highest profile killing of an opposition figure in the 15 years President Vladimir Putin has been in power.
His death has triggered anti-Putin demonstrations with critics pointing the finger of blame at the Russian government and a contract killing.
Several other motives for Nemtsov's murder have also been mooted, including revenge over harsh statements against Muslims after the Charlie Hebdo attacks, the politician's business activities, and a possible assault related to his personal life.
Amnesty International has questioned the fairness of the investigation.