Palestinians mobilise to save Yarmouk refugees after ISIL attack
Comments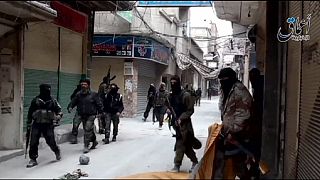 A video posted online on Sunday purported to show militants from the self-proclaimed Islamic State advancing into the mostly Palestinian refugee camp at Yarmouk in the Syrian capital Damascus.
The PLO in Damascus has formed a crisis cell to handle this tragedy - they are trying to work it out to minimise losses
The film has not been independently confirmed but is consistent with reports, according to the Associated Press.
Fighting involving rival insurgents and government forces has put civilians in serious danger.
Thousands have fled or been evacuated. An official from the Palestinian Liberation Organisation (PLO), Anouar Abdel Hadi, told the AFP news agency that some 400 families – around 2,000 people – had been evacuated from the camp on Sunday.
In the West Bank Palestinian President Mahmoud Abbas condemned the Islamist militants' attack on Yarmouk.
"The PLO in Damascus has formed a crisis cell to handle this tragedy – they are trying to work it out to minimise losses. We are in touch with our brothers there to find a way out and protect our people from this tragedy," he said.
Palestinian groups once opposed to President al-Assad are now in an unlikely alliance as they fight back against ISIL.
Their superior numbers backed by government artillery support has enabled them to make some gains.
Syrian rebels withdrew from the camp a year ago.
But despite their efforts, ISIL is said to have killed more than 20 people since Friday and kidnapped dozens.
According to the UK-based Syrian Observatory for Human Rights, some civilians have reached other destinations in Damascus province, but the ISIL attack had caused casualties.
The camp is said to be 90 percent in the hands of ISIL after their attack last week, giving the jihadists a strong presence close to the Syrian government's seat of power.
Government forces have responded by shelling, while the air force also bombed the camp this weekend, reportedly causing more civilian casualties.
The United Nations has also sounded the alarm over the "desperate" plight of civilians trapped amid fierce fighting.
The UN Relief and Works Agency (UNRWA) said in a statement that never had civilian lives been more profoundly threatened: "Men, women and children – Syrians and Palestinians alike – are cowering in their battered homes in profound fear, desperate for security, food and water, deeply concerned by the grave perils that may yet come, as hostilities continue."
The Yarmouk camp on the outskirts of Damascus has been home to some 18,000 Palestinian and Syrian civilians for two years, trapped by a government siege. The area has been devastated by street fighting, air attacks and shelling.