Commitment to peace in Ukraine as ICRC distributes aid in the east
Comments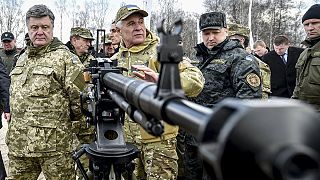 Ukrainian forces loyal to Kyiv are committed to maintaining the ceasefire in the war-torn east of the country, President Petro Poroshenko has announced.
Both sides in the conflict have pledged to uphold the ceasefire.
Poroshenko made the following statement during a presentation of Ukrainian-made weapons and military equipment at a National Guard training centre in Novi Petrivtsi, near to the capital.
"We would like to demonstrate that, despite the truce, despite the fact that the Ukrainian armed forces – as per my order – are strictly abiding by the ceasefire agreement, if the truce is broken, we are capable of responding to the aggressor," he said.
Незважаючи на те, що ми залишаємось прихильниками мирного розвитку подій, порох треба тримати сухим. pic.twitter.com/KMdOM6KnDt

— Петро Порошенко (@poroshenko) April 4, 2015
A day earlier, teams from the International Committee of the Red Cross (ICRC) entered the separatist-controlled eastern city of Vuhlehirsk and its surrounding villages, to distribute humanitarian aid.
While welcome, some villagers such as Valya Sevastianova, say they would prefer not to be reliant on aid.
"Prices are so high, we can't buy anything," she said. "But, I don't want humanitarian aid. I want peace. I just want everything to go back to how it was, when people would work and receive their salaries. We were fine without humanitarian aid and without war."
Locals were entitled to two boxes – one containing food and the other a hygiene kit.
The distribution of aid came as the Organisation for Security and Cooperation in Europe (OSCE) Special Monitoring Mission made a statement outlining a dire humanitarian situation in the east of Ukraine.
"Many villages lack running water and power, many hospitals and clinics are heavily-damaged and lack essential drugs supplies and equipment," said spokesman Michael Bociurkiw. "And untold numbers of children are shell-shocked, have absolutely nowhere to play and learn. And access to pensions and other forms of social support is severely restricted for many."
In its latest report, the OSCE says fighting is ongoing in parts of Ukraine's east.
Fighting continued in areas around #Donetsk airport and Shyrokyne. Latest @OSCE_SMM report at http://t.co/9VwYVA9tIE

— OSCE (@OSCE) April 3, 2015