Ukraine peace deal: Moscow calls for pressure on Kiev
Comments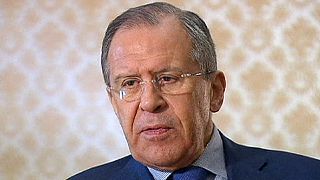 Moscow says France and Germany should put pressure on Kiev to make sure peace agreements are respected.
It comes amid reports that two Ukrainian servicemen were killed in attacks by Russian-backed separatist rebels in eastern Ukraine.
Rebel strikes are continuing to test a ceasefire across a wide area near Mariupol, according to Kiev's military.
Ukraine and its Western allies say rebels are funded and armed by Moscow, and backed by Russian military units. Moscow denies aiding sympathisers in Ukraine.
In a television interview, Russia's foreign minister Sergei Lavrov said: "We call for the obvious things: to influence Ukrainian authorities so that commitments supported by Petro Poroshenko, as Ukrainian president, are fulfilled."
Russia and Ukraine have been arguing over the next steps for the Minsk peace deal, with Kiev pressing for elections under Ukrainian laws to be held in regions where rebels have set up "people's republics."