Ukraine and Russian diplomats 'bandy words' in a bad tempered OSCE meeting
Comments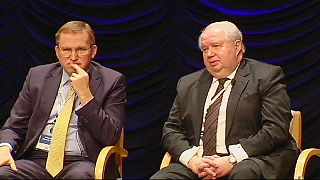 A special session in Washington of the Organization for Security and co-operation in Europe brought together the Russian and Ukranian ambassadors on Tuesday in a none too friendly atmosphere.
The two men sparred over all aspects of the Ukrainian crisis accusing each other of being the root cause of the violence.
Russian Ambassador to the U.S Sergey Kislyak said:
"What is portrayed as Russian aggression in reality is more of the government in Ukraine against their own people. So I would advise our friends not to misrepresent what is happening on the ground. Government forces are killing Ukrainian citizens."
Ukraine's ambassador to the US Oleksandr Motsyk reacted angrily when his government was accused of being fascist.
"It's a myth which was born by (the) Kremlin and (the) Kremlin constantly uses this myth in order to create problems for Ukraine. And (an) independent Ukraine, (a) democratic Ukraine is not the option of (the) Kremlin."
The session took place on the day Kyiv lawmakers voted to allow peacekeepers into the war torn east of Ukraine.
Our correspondent Stefan Grobe had been observing precedings in the Regan Building.
"If body language was any indication, Ukraine and Russia are far away from any understanding. Both ambassadors avoided looking at each other, even when they exchanged a perfunctory handshake. At least, they kept it civil."
The session called OSCE Security Days was the first of its kind to be held away from the OSCE's Vienna headquarters.
Government representatives from 45 of the 57 OSCE countries participated in various meetings and panel discussions.