Ukraine outlaws many Russian-produced police shows and films
Comments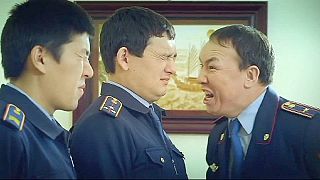 A new Ukrainian law bans films and TV shows made after the end of the Soviet Union which glorify Russian police and armed forces.
The legislation, signed into force by Ukrainian President Petro Poroshenko, is the latest in a series of measures put in place to curb Russian propaganda in the country.
Media expert Kateryna Myasnikova explained to euronews that the law also covers all films produced by a person or organisation from the "aggressor state" since January 1, 2014. "In this case the ban may be considered an economic sanction."
Attempts were made in Kyiv's parliament to to challenge the new law but it was approved and the screening of the Russian films and serials are now banned.
"If we want join the EU and if we're trying to build up democracy, we should avoid any censorship, discrimination or restrictions," said a man in Kyiv, "but at this time, when these movies and TV-series are the part of propaganda, it's better to ban them."
The new law means that films such as award-winning Leviathan will no longer get a look-in in Ukraine.