Hurricane force winds batter Europe
Comments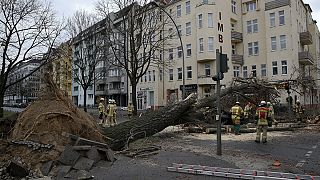 Hurricane force winds have battered parts of northern Europe leaving at least five people dead in weather related incidents.
In Germany two forestry workers died when their vehicle was crushed by a falling tree, another person was killed when a stone wall fell on him.
Trains and flights were all disrupted across northern Germany with rail services cancelled as far south as Bavaria.
"It's chaos. Nothing is operating anymore. There is no railway traffic in North Rhine Westphalia at all. Now, we are trying to get a voucher so we can take a taxi somewhere," said one man waiting at Cologne station.
In Austria one man died when he tried to fix his roof and fell off a ladder.
At the storm's height winds of 100 kph were recorded with gusts reaching 120 kph.
A fifth victim died in the eastern Netherlands when a warehouse roof collapsed.
The Dutch authorities have warned freight drivers not to travel with lightly loaded vehicles after overturned lorries blocked roads.
Britain was also wind-battered as the ferocious weather system toppled trees and damaged homes.
The UK is now on flood alert with rain storms threatening to last until the Easter weekend.
While in the Czech Republic the strong winds brought with them heavy snow and freezing temperatures causing many road accidents and leaving locals struggling to cope with the unseasonal weather.
UK Weather: Britain is battered by freak winds and worse to come http://t.co/UZNYhQ0Ivhpic.twitter.com/iJfPbqZKbU

— Daily Mirror (@DailyMirror) March 31, 2015