Germanwings crash: Co-pilot Lubitz had 'suicidal tendencies'
Comments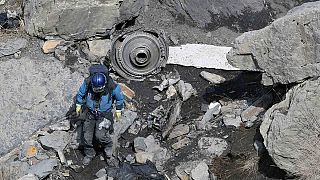 "Suicidal tendencies".
The chilling words were pronounced by a German prosecutor on Monday, giving another insight into the troubled mind of co-pilot Andreas Lubitz who is thought to have deliberately crashed a passenger plane in the French Alps, killing all 150 people on board.
"Several years ago, before obtaining his pilot's licence, the co-pilot was in a long period of psychotherapeutic treatment with noticeable suicidal tendencies," German state prosecutor Christoph Kumpa told reporters.
"After that and until the end, further doctor's visits led to sick notes without suicidal tendencies or aggression mentioned in them."
While Kumpa stressed that no such symptoms had been detected from Lubitz recently, it is still unclear what was on the sick note found torn up at his home, saying he was unfit to fly on the day of the crash.
Investigators believe Lubitz, serving as co-pilot on a Germanwings flight from Barcelona to Duesseldorf on March 24, locked the captain out of the cockpit and steered the Airbus A320 plane into the side of a mountain while passengers screamed in horror.
Amid media reports about depression, possibly psychosomatic eye problems and claims that Lubitz had planned a 'spectacular gesture', prosecutors say they still have no clues as to any motive.