Unconfirmed reports and speculation mount over Germanwings crash
Comments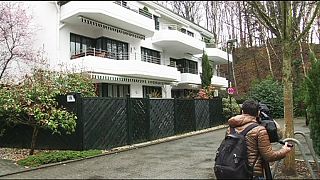 As authorities attempt to find the most likely explanation for the Germanwings plane crash in the French Alps, the media continues to hunt for clues in the hometown of the co-pilot.
Unconfirmed reports are mounting about Andreas Lubitz, who is suspected of deliberately crashing the plane.
German papers focus on the 27-year-old's girlfriend, a mathematics teacher.
Some reports claim she is pregnant and recently split up from Lubitz because of erratic behaviour.
The pair are said to have met while working at a fast-food restaurant, where reporters are attempting to find out more about Lubitz's past.
Some reports say the co-pilot may have been worried about his career because of eye problems; others say he had been receiving psychiatric treatment without informing his bosses.
German state prosecutors said on Monday that Lubitz had been treated in the past for suicidal tendencies, although they point out that this was "several years ago" and before obtaining his pilot's licence. There had been no signs of a repeat of these tendencies in recent years, they added.
'Lubitz planned to marry pregnant girlfriend', claims German report http://t.co/kCepxaa5pJpic.twitter.com/Vlo6gJ0TCE

— The Independent (@Independent) March 30, 2015
Andreas Lubitz's hometown pastor says community 'stands by' co-pilot http://t.co/KPWPpFRw7ppic.twitter.com/0Ls1Fybb4u

— Telegraph News (@TelegraphNews) March 30, 2015
Germanwings Crash Leaves Home City of Andreas Lubitz, Pilot, Bewildered and Bristling http://t.co/c1k5kZS9UX

— The New York Times (@nytimes) March 30, 2015
Killer pilot 'planned to marry girlfriend but she broke off relationship' http://t.co/2×8YkzhvCZpic.twitter.com/ssHyYNAtSw

— Daily Mail Online (@MailOnline) March 29, 2015
Why the media coverage of Andreas Lubitz and mental health is unhelpful http://t.co/FPSu9UBRMgpic.twitter.com/3N7qgLGglZ

— The Independent (@Independent) March 29, 2015