Lufthansa fears second Germanwings black box may never be found
Comments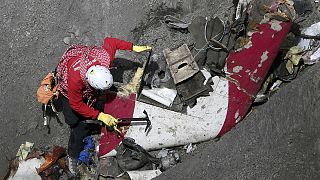 The German airline Lufthansa says it fears the flight data recorder from the Germanwings disaster may never be found.
A manager has told a German television station that damage might have been too serious on impact.
Most of the Airbus A320, which was carrying 150 passengers and crew, was shattered into small pieces.
Recovery of the debris is expected to take weeks.
Investigators have already retrieved information from the cockpit voice recorder, apparently confirming the plane was deliberately crashed into the mountains.
Officials trying to confirm the identities of remains found at the crash site say so far almost 80 different types of DNA have been recovered. Not one single body was found intact.
Because of the rugged terrain, emergency teams are building an access road to the site, to make it easier to remove debris and remains.
Fascinating piece from Guardian on air crash investigators & black boxes #4U9525http://t.co/pLqrM3CAD5

— Tim Robinson (@RAeSTimR) March 29, 2015
#Germanwings flight's last minutes revealed in black box transcript http://t.co/LZFPRGz6JBpic.twitter.com/IvcVnuT8ze

— AeroTime (@AviationNews) March 30, 2015
The Black Box: The development of flight recorders since the 1950's http://t.co/xP8ND8jIJApic.twitter.com/YfiSFtApfc

— The Telegraph (@Telegraph) March 26, 2015