Germanwings crash: lack of radio contact 'may not be surprising'
Comments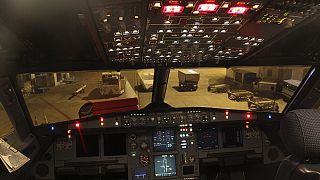 The French authorities have confirmed that one of the black box flight recorders has been recovered from the site of Tuesday's passenger plane crash in the French Alps.
However it will be some time before the cause is known.
A Germanwings Airbus A320 aircraft came down less than an hour into its journey from Barcelona to Dusseldorf with the loss of 150 lives.
Euronews turned to aviation expert Bertrand Vilmer to try to shed light on the crash.
Sophie Desjardin, euronews:
"Bertrand Vilmer, you are an aviation expert, and a former pilot. It is still early to draw conclusions on what really happened this morning above the Blanche Valley in the French Alps.
We know some details: in particular the fact that the pilot did not send out a distress call but the plane seems to have fallen in stages. What do you think happened?"
Bertrand Vilmer, aviation expert:
"There are two ways of making a distress call from a plane. There is a radio signal, which begins with 'mayday mayday mayday', and there is the activation of a transponder which is a radar answering machine which allows the controller on the ground to determine that the aircraft is in distress, in an extremely clear way on their radar screen. Here, the fact that from 38,000 feet and for several long minutes – because we're talking about 12 minutes between the moment where it left its (cruising) altitude and the moment of impact – there was no radio contact. That may not be surprising simply because when a plane has a problem, the first thing you do is to ensure the control of the aircraft. Once the aircraft's trajectory has been assured you make an estimate of the breakdown which you try to repair, and then once all that is done, if there is time and if the aircraft allows it, then you send out a message."
euronews:
Might there have been a loss of cabin pressure?
Bertrand Vilmer, aviation expert:
"In an aviation accident, there are three possible causes – three broad groups of possible causes. There are technical causes, the equipment to put it simply; there is the environment, the weather, birds, power cables etc; and human causes. Very often from experience we realise that an accident never has one cause but there are root causes, aggravating causes, there are principal causes, there is a chain of events which make the accident happen."
euronews:
"The plane in question went into service in 1991, so it was 24 years old. Is that old for an aircraft?"
Bertrand Vilmer:
"The answer is no. Not if it conforms to European maintenance standards. First of all, the Airbus (A320) model went into service in 1988. There are more than 6,000 flying at the moment and slightly over 10,500 which are in the process of being ordered or supplied. It's an extremely common aircraft. There are extremely strict maintenance standards."
euronews:
"But isn't the age limit 25 years for commercial operations?"
Bertrand Vilmer:
"That's the companies' own limit but from the moment an aircraft receives its licence to fly and where the workshops which maintain the aircraft give their accord – which are authorised workshops – then the aircraft can fly."
euronews:
"Lufthansa handed the plane over to its subsidiary Germanwings last year. Is this common practice, that planes at the end of their life are given to low cost branches?"
Bertrand Vilmer:
"What is possible is that the company's policy was to put forward new planes on routes which are the most profitable and the most used, which is completely logical from a commercial point of view. But that has no bearing on whether or not an aircraft might break down."