Vonn caps off remarkable comeback season with two titles
Comments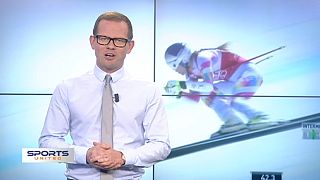 Lindsey Vonn blew out her right knee at the 2013 world championships and then injured it again on her return to action, keeping her out of last year's Sochi Olympics.
Both incidents required surgery.
But staying away from the summit of the sport was never an option for the Speed Queen and this week her comeback was complete and the record books rewritten.
It has become a familiar sight on the skiing circuit over the past decade – Lindsey Vonn holding aloft a crystal globe.
After missing almost two years of competition due to injuries retirement appeared to by knocking on the door.
But the American refused to hang up her skis and what a decision that turned out to be as her return season has been a cracker.
On Wednesday the 30-year-old added a record-extending 66th World Cup victory in a downhill which saw her win a seventh World Cup title in the discipline.
On Thursday she followed that by clinching the World Cup super-G title for the fifth time after winning the last race at the season-ending finals in Meribel.
The four time overall world cup champion now has a career 19 crystal globes, equaling the record of Sweden's Ingemar Stenmark and has a record 67 world cup victories.
A Vonn retirement now seems far off.
More CRYSTALGLOBES for lindseyvonn</a>! <a href="http://t.co/RnSEfffnhP">http://t.co/RnSEfffnhP</a> <a href="https://twitter.com/hashtag/LV67?src=hash">#LV67</a> <a href="http://t.co/vAR8lagly3">pic.twitter.com/vAR8lagly3</a></p>&mdash; Universal Sports (universalsports) March 19, 2015
Birthday girl D'Hoore wins season opener
The 18th edition of the UCI Women's Road World Cup kick-started in the Netherland's this month with the Ronde van Drenthe.
An unpredictable race with previous wins coming from solo attacks, small groups, bunch sprints and everything in between.
Jolien D'Hoore celebrated her 25th birthday in style.
The Belgian National champion opened up her 2015 account with victory in Hoogeveen.
2015 Women Road World Cup: Birthday victory for Jolien D'Hoore in Drenthe http://t.co/F0U5dkT7KUpic.twitter.com/GZpfn6gvhj

— Boxscore (@BoxscoreWorldSp) March 15, 2015
The day's ride and the opening race of the women's Road World Cup season took the peloton over 138 kilometres starting and finishing in the northeastern Netherlands town.
Dry, but cold and foggy conditions greeted the 120 strong group as they made their way over demanding mix of surfaces including various cobbled sections.
After so many different styles of race victories in the past nine years this one came down to a bunch sprint to the line.
Birthday girl D'Hoore of the Wiggle Honda team timed her dash to perfection to outdo Dutch rider Amy Pieters by a full bike length.
Another home rider Ellen Van Dijk rounded out the podium in third.
The second race of the season takes place later this month in Italy.
Ruling the Omani waves
Over an 11 month period the 2015 Extreme Sailing Series will visit eight venues spanning three continents.
The series set sail in Singapore for the season opener last month while Act two took place in Oman's capital Muscat.
The second stop of the series went all the way to the final double points race.
After six races, just two points separated home team The Wave, Muscat and Danish team SAP Extreme Sailing Team.
The Wave took control of the final from the start playing the light seven-knot wind shifts expertly.
After sailing away from the field they never looked back as they crossed the line first for their third consecutive overall victory on home waters.
Extreme Sailing Series – The Wave, Muscat remporte l'Act 2 à domicile http://t.co/vl7vBmCPHHpic.twitter.com/XMQQA1bMiV

— Bateaux.com (@bateaux_com) March 16, 2015
SAP Extreme Sailing Team finished the final race third to take second place overall.
After 2 Acts, The Wave, SAP and Red Bull Sailing are all tied on 18 points ahead of the third stop in Qingdao, China at the end of April.
Practice makes perfect
When it comes to competitive diving – China are the dominant force by far having failed to win just four gold medals from a possible 36 from the past two Olympics and two world championships.
Their gold rush will surely continue at the worlds in Kazan this summer and the Rio Olympics next year.
But why are they so good?
The Chinese state sports schools play a major role as does its seven-hours-a-day-seven-days-a-week training regime.
Cornel Marculescu, FINA executive Director says: "They (China) have a great tradition. They are working very hard. They have a great talents coming, one after other, and I think they deserve to get what they get, but they are not the only ones. Many other nations are working very hard and we will see what is going to happen on the world championships in Kazan this July".
Four-time Olympic and seven-time world champion Wu Minxia says there is no real secret to it all and that it just comes down to training and lots of it.
She added: ''We just hope to perform the movements well in competition. Everyone practices according to the plan set by the coaches.''
If there is a proverb to describe the Chinese mastery of diving then it doesn't get more fitting than 'practice makes perfect'.
Row, row, row your boat
In a previous edition of Sports United we looked at the role of a coxswain in competitive rowing.
This week we return to the sport to give you an insight into the modern day equipment used.
Do you know how heavy a boat is, what it's made out of?
A single person shell is the smallest boat out there and they start at seven metres in length, so still quite long.
Believe it or not, it only weighs 14 kilograms ready to row and that will work for a 100 kilogram rower.
It ranges from from a two person boat, a four person boat and goes all the way up to an eight-person boat that can be a little more than 18 metres long and those only weigh 96 kilograms.
The whole magic to keeping them light, stiff and fast is carbon fibre so they are almost entire built out of this and epoxy.
The sliding seat doesn't look very comfortable but it is all about being the right shape to hold the athlete in the boat.
The shoes that are in the rowing shell are actually adjustable in terms of height and angle to suit the rowers. They are strapped down for safety reasons with a quick release that undoes the top part of the shoe, so if you ever do end up upside down you can get out quickly.
The shoes themselves are permanently attached to the boat.
Another part of the boat is the outrigger so this would mount on the boat behind the rower. They have oar locks that actually turn and the oars would run through these.
The oars have an adjustable handle to fit each rower's size.
The blade at the end of the oar is made of carbon fibre, it has folded edges of glass around for protection just in case you hit rocks or a competitor's oar.
SportAccord awards
There's only a few days left to chose for you favourite sports personality of 2014 ahead of next month's SportAccord awards in Sochi.
Go to the SportAccord website to cast you vote.