Two nuclear reactors retired in Japan as it hosts UN disaster conference
Comments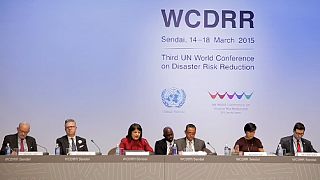 Two Japanese power companies have announced they will scrap three ageing nuclear reactors. It marks the first moves to permanently shut down nuclear reactors since the Fukushima disaster four years ago.
Another two are expected to be scrapped with announcements expected later this week. The companies said it would be too costly to revamp reactors to meet new stricter regulations.
The government is working on a new energy plan which will likely lead to other reactors being decommissioned.
Before the Fukushima disaster 30 percent of Japan's electricity was generated by nuclear power. All 48 reactors were taken offline in 2011, when an earthquake and tsunami set off meltdowns at TEPCO's Fukushima plant. It appears as many as two-thirds of the reactors may never come back online due to high costs or local opposition.
It comes as UN delegates at the disaster risk reduction conference visited a local fishing cooperative in Soma City which monitors radiation in their catch following reports of leaks from the Fukushima plant.
Japan had hoped to complete the decontamination process by last year, but it has pushed this back to 2017 over a lack of storage facilities for contaminated waste.
The costs both human and material were at the forefront of the conference on disaster risk reduction in Sendai, and were highlighted by the devastation visited on Vanuatu by Tropical Cyclone Pam.
The UN hopes to sign off a new plan which will boost investment in disaster prevention programmes. In Japan euronews reporter Serge Rombi laid out the economic argument:
"The new action plan involves governments but also the private sector and civil society. Clear objectives will be set to reduce the number of victims, but also the cost. Every year natural disasters around the world costs some 285 billion euros."