Appeals for flexibility on Greek reforms but war of words with Europe continues
Comments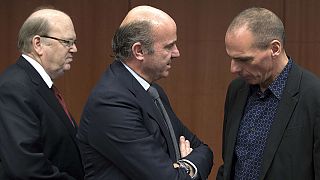 There is some hope in Athens that progress can be made in Greece's standoff with European creditors, on news that detailed negotiations are to start on Wednesday with the aim of unlocking further funding.
Reports suggest the Greek government is to tap into its bank rescue fund to avoid a cash shortfall.
On Monday European finance ministers warned Athens to stop wasting time over reforms.
"I think that Greece and the government should be given as much leeway as possible so it can try and do whatever it can do. It will go step by step and will see what (reforms) it can pass. I think that the people are aware of what's going on, they don't expect everything will change and everything will be (perfect) because the conditions were there before," said one woman in Athens who did not wish to identify herself.
Pantelis Glezos, a 31-year-old unemployed man, said:
"I hope an agreement will be reached because I see that they are not as hardline as before and we on our side have started to become more clear on our demands, so I think something will happen. I hope that they do not implement the previous measures of the bailout that were supposed to be implemented because we couldn't take it."
On Monday the head of the Eurogroup, the meeting of eurozone finance ministers, warned Athens to stop wasting time over reforms.
Jeroen Dijsselbloem is insisting on seeing a detailed list of reforms before releasing loans to Athens.
Brussels has accused Athens of failing to provide specific detail over its plans – an accusation denied by the new Syriza-led coalition government.
Greece needs to save 200 million euros through public spending cuts, as well as streamlining bureaucracy and tackling tax evasion.
Despite the imminent talks, bad blood remains on both sides.
There's anger in Germany at comments by the Greek Finance Minister Yanis Varoufakis which appear to acknowledge that the country won't repay debts.
Meanwhile the Greek Defence Minister Panos Kammenos has reportedly threatened to unleash a wave of economic migrants on Europe if Greece is allowed to go bust.