France: Three suspects sought over 1982 Jewish restaurant attack
Comments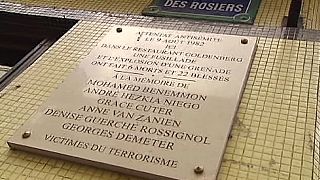 More than three decades after a deadly attack on a Jewish restaurant in Paris, international arrest warrants have been issued for three suspects.
Six people died and 22 were injured when gunmen launched a grenade and burst into the Jo Goldenberg restaurant in an old Jewish district of France's capital in 1982, opening fire on diners.
The suspects, of Palestinian origin, are now living in Norway, the West Bank and Jordan according to the French media.
It has identified them as Walid Abdulrahman, 56, Mahmoud Khader Abed, 60, and Mohamed Souhair al-Abassi, 64.
The trio are said to have belonged to the Abu Nidal splinter group
of the Palestinian Liberation Organisation.
Those seeking their return to France for trial are under no illusion that it will be a difficult process.
"Extradition procedures are complicated so another battle lies ahead to ensure that these people can be put before a judge," said Guillaume Denoix de Saint Marc of the French Association of Victims of Terrorism.
"And it is very important that justice is done, even though it is a very long time afterwards. So we will never give up."
The bombing and shooting was part of a wave of violence from Palestinian militants and other groups during the 1980s.
For the son of one of those killed, memories of what happened to his father are never far away, with a plaque put up in the street in memory of the victims.
"Every time I go past here, I see my dad, my dad's name and those of the others too," said Mustafa Benemmon.
Asked what he expects from the French justice system, he replied:
"I expect them to be sentenced."
Amid a fresh wave of Islamist militant attacks targeting French Jews, the country is keen to show that there is no time limit in its determination to deal with terrorism.