Dozens trapped after Zasyadko coal mine blast in Donetsk, Ukraine
Comments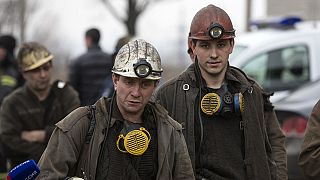 A blast at a coal mine in the rebel-controlled Donesk in eastern Ukraine has killed at least 32 people, according to a local official.
Dozens of other miners are believed to be trapped one kilometre deep underground inside the Zasyadko mine.
The cause of the blast was not immediately clear, however mine officials said it was not linked to fighting at the nearby frontline between pro-Russian rebels and Ukraine government forces.
Ukrainian Prime Minister Arseny Yatsenyuk said rescue workers had been dispatched by the central authorities, "but the Russian terrorists did not let them reach the scene of the accident," he said, using a term commonly used by Kyiv to describe the separatists.
President Petro Poroshenko expressed his condolences to the families of those killed in the blast.
One minute's silence was held in the Ukrainian parliament to honour victims of the tragedy.
Some 230 people were understood to be working in the mine at the time of the explosion.
Around 150 workers have been rescued. A trade union official said 47 people are still believed trapped underground.
The mine has a history of fatal accidents in the 57 years it has been operating. An explosion at Zasyadko in 2007 killed 106 people. A cemetery next to the pit holds the graves of many miners killed in the past.