Syrians start to return to Kobani as Kurds fight off ISIL
Comments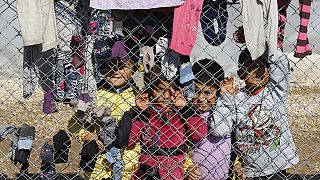 The Syrian Red Crescent reports around 3,000 Syrians are returning home.
But they do not know what awaits them. They crossed back into Syria from the Turkish border town of Mursitpinar, intent on going home to Kobani after nearly four months of conflict in the town.
Around 3000 people returned today to #Kobane#Ain_Arab#Syria, our sub-branch is working to provide basic needs. pic.twitter.com/hnisFBO841

— Syrian Red Crescent (@SYRedCrescent) February 23, 2015
Once home to 200,000 people, almost the entire population fled to Turkey when the fighting began.
Clashes between Kurdish rebels and ISIL militants has largely destroyed the town and there are reports of widespread looting of both businesses and homes.
Zino was one of the locals returning home.
"We are returning to our village, but we heard that it has been completely plundered. We came here with the clothes we are wearing, to save our lives, and we are returning exactly as we came," she said. "I don't know what we will do there. I am scared. We have nothing left. We will lean against the wall and sit in an empty house."
Havva was also going back to Kobani. She expressed similar feelings:
"I don't know what remains at home. I don't know if our house is demolished or if it is still there," she said. "We have been here for two months and I am tired. We are miserable. Let us go home and die on our land."
More than 1500 civilians entered #Kobani today as ppl get back to city daily, photos via The Syrian Red-Crescent pic.twitter.com/sMNuw11FEL

— jack Shahine (@jackshahine) February 23, 2015
Kurdish defenders managed to hold back Islamists who were trying to overrun Kobani and the surrounding area.
With assistance from Iraqi peshmerga fighters and near-daily air strikes by the US-led coalition, the Kurdish locals drove out the insurgents in January 2015.
Kurdish forces have now regained control of some 163 villages around the town, according to the British-based Syrian Observatory for Human Rights. However, fresh clashes to the west and southwest of Kobani have reportedly slowed down progress.