Ukraine begins heavy weapons withdrawal as bombardment eases
Comments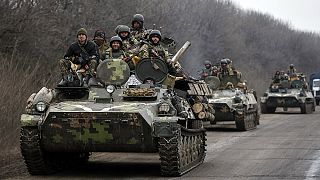 For a second day the Ukrainian defence ministry says it has suffered no casualties along its frontline in the east of the country, but it is an uneasy calm.
Shelling from rebel forces has now abated sufficiently, says Kyiv, for the withdrawal of heavy weapons as stipulated in the Minsk deal to begin, although shooting continues and the situation near Mariupol remains tense.
"What we saw was more calm, happy to report that, but still, we saw a range of ceasefire violations ranging from, still, rocket launcher systems' fire, to artillery fire, to small arms fire," said the OSCE's Michael Bociurkiw.
On the Russian-backed rebel side redeployment of heavy weapons has also begun, although there are reports much of it is heading south to around Mariupol.
"All of the calls to judge the rebels, Russia, someone else, over breaking the ceasefire are aimed at only one thing: not to allow the situation to cross over to the path of political resolution," said Russia's Foreign Minister Sergei Lavrov.
With the withdrawals and the ceasefire, the cost of the bitter fighting for Debaltseva is now becoming apparent. Every single building in the town has been damaged or destroyed. It has almost been removed from the map.