Australian drug smugglers face firing squad despite Abbot's diplomatic efforts
Comments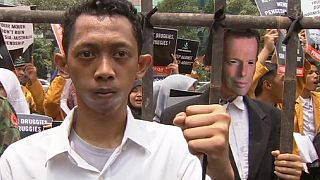 Bilateral relations between Indonesia and Australia have "remained intact" despite Indonesia's refusal to halt the execution of two Australian drug traffickers, a spokesperson fot the Indonesian foreign ministry said on Thursday.
Australia's Prime Minister Tony Abbot has been working to get two of his country's citizens off death row for trying to smuggle heroin from the resort island of Bali to Australia.
Abbot said he has had telephone discussions with Indonesia's president.
"I don't think it would help the case of these two young Australians if I was to start ventilating in public the contents of the conversation. Suffice to say that the president absolutely understands our position," Abbot told reporters.
An Indonesia court has rejected a clemency appeal in the cases of the Australians, Andrew Chan and Myuran Sukumaran, along with nine others facing a firing squad.
Last week, Abbot indicated that Indonesia would face diplomatic consequences if the executions went ahead.
The spokesman for Indonesia's foreign ministry stressed that any representations and efforts from Australia need to be made "within the corridor of the law in Indonesia."
But the death penalty is part of the country's legal system.
An Indonesian firing squad executed six convicted drug traffickers, including citizens of Netherlands and Brazil, as recently as January.