War with Ukraine "unlikely" - Putin
Comments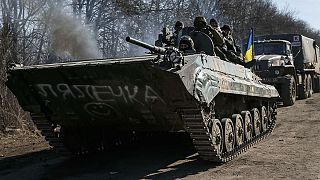 Russian President Vladimir Putin says a full war with Ukraine is "unlikely".
In an interview on Monday to mark a public holiday honouring Russia's armed forces, Putin added that the Minsk agreements must be realised.
"I assume such an apocalyptic scenario is unlikely and and hope it will never happen (…) A big European country like Ukraine should – in the first place – return the nation to normal, restore the economy, society and relations with the south-east of the country in a civilized way and ensure legitimate rights and interests of the people in Donbass," said Putin.
Ukraine's military warned it could not withdraw heavy weapons from the front line until separatists ceased firing. It is believed rebels will begin their pullback now that the public holiday is over.
Moscow has been warned of additional sanctions if the unrest spreads further into Ukraine.
British Prime Minister David Cameron told the UK parliament that that the economic pain would only increase.
"Russia must be in no doubt that any attempts by the separatists to expand their territory — whether towards Mariupol or elsewhere — will be met with further significant EU and US sanctions. Russia must change course now," said Cameron.