Ukrainian troops say heavy weapons withdrawal would be 'a mistake'
Comments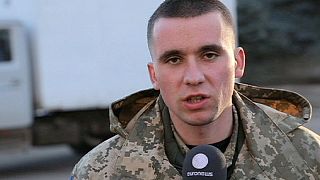 Ukrainian soldiers offered a gun salute to four of their own war dead on Monday. The men were killed by landmines a few days earlier in Debaltseve, a town in eastern Ukraine now under rebel control.
Nobody believes in the ceasefire and in the capacity of diplomacy to solve this conflict. People and soldiers are expecting the worst in the hours to come, specifically attacks in the direction of Artemivsk and Mariupol.
Having taken sanctuary about 45 kilometres away in Artemivsk, the troops are sceptical about the latest ceasefire and expect pro-Russian rebels to attack at any time.
One soldier told euronews: "Just after the truce was announced, things got worse, right from the very beginning of the truce."
Another fighter, a deputy-commander of the 25th battalion added:
"Every day, we hear shelling and it's not just that. Some of our positions have been shelled. Separatist and Russian occupiers are not abiding by the agreements."
Ukrainian troops told euronews that it would be a mistake to pull heavy weapons away from the frontline. Instead, they said, they should go on the attack.
Sergio Cantone, our correspondent on the edge of the war zone said:
"Nobody believes in the ceasefire and in the capacity of diplomacy to solve this conflict. People and soldiers are expecting the worst in the hours to come, specifically attacks in the direction of Artemivsk and Mariupol."