Hundreds join Mexican orange throwing festival
Comments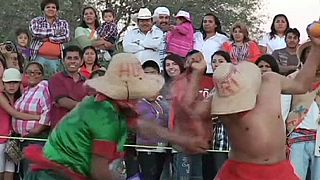 Orange throwing is all the rage in a small central Mexican town at this time of the year.
Locals in Alfajaycuan marked the beginning of the sowing season on Sunday with the 150-year-old tradition.
Legend suggests that orange throwing will ensure rain and a good harvest.
This year, hundreds of people took part in the 'War of Oranges' festival before shaking hands to make amends.