Paris malls ramp up security after Al-Shabaab threat
Comments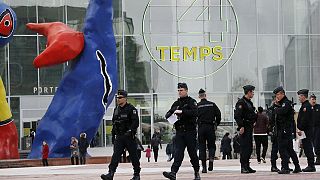 Two malls in Paris have ramped up security after threats made in a video by Somali-militant group Al-Shabaab to attack shopping centres in the West.
With around 46 and 37 million visitors respectively in 2014, Paris malls Quatre Temps (La Defense) and Forum des Halles have topped up the Vigipirate security in place since the attacks in the capital in January.
Ah bah non, il est pas encore fini :/ RT @LeNouvelObs Les #shebabs menacent de frapper le #ForumDesHalleshttp://t.co/KmvDCAqwnw

— Agathe (@nagathe) February 23, 2015
"We've taken specific measures since this morning;" explained Director of Quatre Temps Shopping Centre, Nicolas Kozubek, adding "this means security reinforcements on top of the original Vigipirate terror alert measures that have already been in place for the past few weeks, and a collaboration in terms of video surveillance where we frequently exchange (information) with the police on this subject."
Though not all visitors to the Quatre Temps mall in La Defense were aware of the threats, they're determined not to live in fear.
"We're keeping an eye out. We can't let this get in the way of us living our lives," said one shopper. "Life has to go on, we could die in our homes… But, it's true, we are afraid."
The video also appealed for jihadists to attack targets in the US, Canada and the UK, recalling the attacks on Nairobi's Westgate mall in 2013, where gunmen killed 67 people.Though the North Americans played down concerns, they urged shoppers to remain cautious.
London's Metropolitan police released a statement saying they were aware of the video and were 'assessing its content'.
The US Homeland Security Department said it was not aware of any specific threat against American shopping malls. A US intelligence official speaking to Reuters news agency said that al-Shabaab had yet to gain popularity with Somalis in the West adding that the video appeared to be a 'lone offender'.