Curtain comes down on Rio Carnival
Comments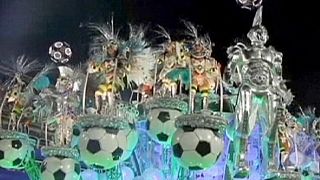 It is big, bright, brash – and only in Brazil. The curtain came down on the iconic Rio Carnival on Sunday night with the traditional parade of champions – Samba champions that is, in the city's Sambadrome.
During the week contestants – 12 schools in all – had put on the their feathers and dancing shoes to compete for the coveted title of champion of the Carnival.
"We have spent a year preparing for the contest and now this is the final moment. We finished second but at the moment I feel as though we are champions," said one contestant.
The country's stalled economy and a high profile corruption case were forgotten during one of the world's biggest five day parties. Brazil's big bash coincided with celebrations for the the Chinese New Year.
"The Carnival here in Brazil is exciting and happy. The excitement and happiness I feel is irrespective of nationality, so I feel very happy to celebrate Chinese New Year here," enthused Ding Xing a Chinese Tourist at the event.
A tropical deluge had soaked the dancers on the opening night, but the weather stayed perfect for the closing parade, there was no need to cover up!