Ukraine: separatists in Debaltseve celebrate withdrawal of govt troops
Comments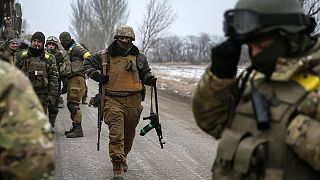 Pro-Russian separatist soldiers have been celebrating in the eastern Ukrainian city of Debaltseve.
For them the withdrawal of Ukrainian government troops is a victory that has left them in control of all neighbourhoods in the city after weeks of heavy fighting.
"We were the first to get in. We broke through the ring and fought them from the inside, and then we started to hit them from all sides," one of the separatists said.
Debaltseve is a significant strategic gain for the rebels because it straddles the railway that is a direct route between Luhansk and Donetsk, their two main cities.
Thousands of Ukrainian troops have now pulled out of the region, representing one of the worst defeats for the Kyiv government in the ten month war that has killed more than 5000 people so far.
"Sometimes more men return here in small groups. They arrive here on foot. Some got lost from their units, some were covering the retreat of other guys. They're slowly returning."
The Ukraine Defence Ministry says 13 soldiers were killed in Wednesday's withdrawal, 157 were wounded and 82 are still missing.