Differences emerge in Moscow and Ukraine over need for peacekeeping force
Comments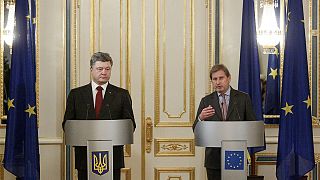 On the diplomatic front Kyiv and Moscow are divided on the role and any peacekeeping mission in eastern Ukraine.
President Petro Poroshenko is requesting such a force but said Russia was an aggressor state and could not take part in the operation.
His proposal has been approved by Ukraine's national security and defence council.
"We see the necessity of introducing a peacekeeping contingent in order to secure peace in the Donbass region and control over the Ukrainian-Russian border in the Donetsk and Luhansk regions," said Poroshenko."We see it as a European Union mission within the framework of the common security and defence policy, as the best option for a peacekeeping operation."
But the Russians see things differently, and would prefer the involvement of the Organisation for Security and Cooperation in Europe, of which it is a member.
"Concerning the withdrawal of heavy weaponry…that process should be facilitated by the OSCE with the support of the contact group", said Russian Foreign Ministry spokesman Alexander Lukashevich in Moscow.
"The OSCE is also supposed to secure effective monitoring of the verification of the ceasefire regime. We are convinced that the basic responsibility for full scale resolution of the conflict, carrying out the Minsk agreement, rests with the sides involved in the Ukrainian conflict".