Poroshenko gets backing of Ukraine's security council as he calls for UN peacekeepers
Comments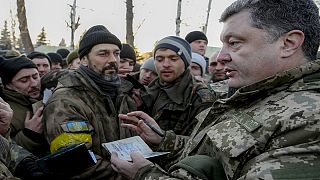 Ukraine's national security and defence council has approved President Petro Poroshenko's call for UN peacekeepers to be deployed in the east of the country.
The request will be put before Ukraine's parliament in the coming days.
The council was very specific about where the troops should be deployed. They want UN soldiers along the frontline as defined by the Minsk agreement. They also said the Ukraine-Russia border should be patrolled by the UN even though Kyiv currently has no control of the area.
A further decision was made to invite NATO counties to take part in military exercises on Ukranian territory.
Petro Poroshenko had earlier flown to the front line to boost moral among his troops who have been forced to retreat from the strategic town of Debaltseve. The president applauded their efforts in the face of what he said were 'bandits supported by Russia'.
Political analyst Vadim Karasyov views the loss as significant.
"The takeover of Debaltseve gives the separatists the resources to supply their territories vai the railway. Will they go further? Everything depends on President Putin At this moment the ceasefire and Minsk agreements are useful to him as they are to Europe."
The fall of besieged Debaltseve is one of the worst defeats of the war for Ukrainian soldiers.
The plea for UN peacekeepers is being seen as an admission they can no longer fend off the pro-Russian rebels.