Poroshenko praises troops for defending besieged Debaltseve
Comments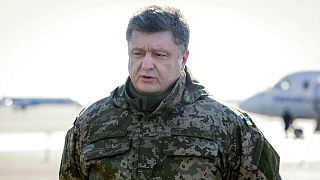 Ukrainian President Petro Poroshenko has praised Ukrainian forces for fulfilling their duty in defending the besieged town of Debaltseve.
He spoke before leaving Kyiv for the front line for what he said was "the great honour of shaking hands with our heroes."
"Our troops withdrew in a planned and organised manner. Together with heavy weapons, tanks, armed personnel carriers, self-propelled artillery, trucks. And we took new defensive lines today," Poroshenko said.
The EU Foreign Policy Chief Federica Mogherini expressed concern to reporters.
"Let me say that the developments this night in Debaltseve, in Ukraine, were clearly a violation of the ceasefire, of the agreements that were signed (…) And it is important that first of all, separatists and Russia implement this, starting from the cease fire and the withdrawal of weapons," Mogherini said.
Russian Foreign Minister Sergei Lavrov said the ceasefire agreement was almost entirely in place with the exception of Debaltseve.
"Once again we call on everybody including those in Debaltseve, to stop fire now. Yes, there are people who got into encirclement, but let's decide their fates through negotiations and consideration for people's lives," Lavrov said.