Feyenoord fans riot in Rome ahead of Europa League clash
Comments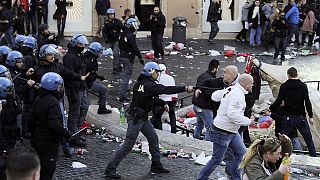 At least 22 Feyenoord fans have been arrested in Rome and eight charged after trouble flared before the Dutch side's Europa League clash with AS Roma, Italian police said.
Drunk fans damaged buildings and threw bottles at riot police on Wednesday night with trouble continuing on Thursday.
Hundreds of Feyenoord fans clashed with riot police at the Spanish Steps on Thursday before the game.
Police fired tear gas and tangled with fans, who left the square's Baroque fountain full of empty beer bottles.
Feyenoord "should make a public apology," said Livio Ricciardelli, a member of the city government, saying that repairs to the fountain at the bottom of the Spanish Steps would be costly.
"Feyenoord should pay for the damage caused to the city by its fans," he said.
In the last 24 hours, 22 Feyenoord fans have been arrested and eight have already been charged, mostly for resisting arrest, judicial sources said.
The eight charged were given six months jail time, or they can pay a 45,000 euro fine, sources said.
Around 6,500 Feyenoord supporters were expected to attend the last 32, first leg match at the Stadio Olimpico.