Last minute appeal for Australians on death row in Indonesia
Comments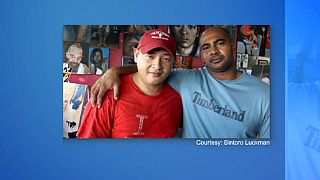 The Australian government is making an eleventh hour appeal for clemency to avoid the impending execution of two drug dealers on death row in Indonesia.
Millions of Australians are feeling sickened by what might be about to happen in Indonesia
Government officials making representations in the cases of Australian nationals Andrew Chan and Myuran Sukumaran, who were arrested in 2006 along with seven others for trying to smuggle heroin from Indonesia to Australia.
They subsequently became known in the media as the Bali Nine, and the courts determined that Chan and Sukumaran were the ringleaders.
They lost their final appeal to have their cases reviewed earlier this month but the Australian government has not given up on the pair.
"These young Australians have done the wrong thing, no doubt about that,". said Prime Minister Tony Abbott. "They should be punished but they shouldn't face death and that's the representation that we're making constantly to the Indonesian government right now."
Both the prisoners' families have been in Indonesia to appeal for clemency and the UN Secretary General Ban Ki-moon has added his voice to those calling for the men not to be executed.
According to a poll carried out over the weekend over 60 percent of Australians also oppose the executions.
The other seven members of the Bali Nine are currently serving either life of 20 years in prison.