Jewish graves desecrated in France
Comments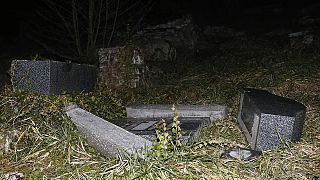 Hundreds of Jewish graves have been desecrated at cemetery in eastern France close to the border with Germany.
The French government condemned the vandalism, the Interior Minister, Bernard Cazeneuve calling it a despicable act.
French President Francois Hollande called the desecration an "odious and barbaric act".
The attack took place in Sarre-Union in the Alsace region. Social media showed gravestones daubed with swastikas and other Nazi slogans.
Anti-Semitic attacks in France have risen sharply in recent years.
This is not the first time graves have been desecrated in Sarre-Union. The cemetery was vandalised in 1988 and again in 2001, but this latest attack is the worst so far.
French Prime Minister Manuel Valls said every effort will be made to catch the perpetrators.