New footage of Taiwan crash reveals how the plane barely missed buildings
Comments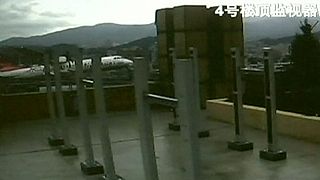 Dramatic new footage has emerged of the moment a Transasia plane crashed in Taiwan.
Surveillance tape on a 21-storey building near the Keelung river shows the aircraft plunging sharply minutes after taking off from Taipei Songshan Airport, missing buildings by less than a metre.
[VIDEO] Taiwan #TransAsia plane crash caught on surveillance tape https://t.co/ss8ijx7Jy6

— euronews (@euronews) 10 fevereiro 2015
Fifteen people survived the crash last Wednesday which killed at least 40 people.
Divers continue to battle the cold weather to search for the 3 people still missing. Rescuers believe they may be trapped under the mud.
Pilots at Transasia Airways are now being tested on how to handle engine failure after initial data indicated this as a reason for the crash.
Flags are flying at half mast across the country as a memorial service is held in Taipei, while the bodies of three victims where flown to mainland China so their loved ones could hold funerals in their home towns.