Dramatic dashcam video captures Taiwan plane crash
Comments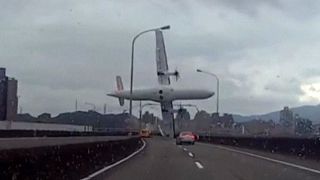 The dramatic moment a TransAsia Airways plane crashed in Taiwan has been captured on video by a motorist.
The aircraft is seen coming down beside a motorway overpass, clipping a taxi and the side of a bridge. It crashed upside down in shallow water.
The bodies of 23 people killed have now been recovered and 20 people are still missing.
Fifteen people survived the crash, including a child, who was seen being taken away from the site in Taipei.
The plane crashed soon after taking off from a central city airport.
Eyewitnesses say it narrowly avoided hitting high rise apartment buildings before it clipped the overpass.
The aircraft had taken off for a domestic flight to the island of Kinmen.
It is reported the pilot had sounded a Mayday, saying an engine had failed.
The chief executive of TransAsia has apologised to the passengers and crew at a news conference.
Aviation authorities say the plane had recently passed safety checks.
They also say the pilot and co-pilot were experienced, having already clocked up 12,000 flying hours between them.
INCREDIBLEFOOTAGE: Moment of Taiwan plane crash. https://t.co/WsVmkXWLOQhttps://t.co/twU7tXo1vt

— Breaking News Feed (@PzFeed) February 4, 2015
Driver of this taxi clipped by #TransAsia plane is in hospital with head injuries, but is stable: reports pic.twitter.com/GixAHotiKb

— Jackson Board (@JackBoard) February 4, 2015
Taiwan plane careens into river after take-off, killing 23. http://t.co/lqq2KKNNgspic.twitter.com/jtk0CWgzKP

— Reuters Top News (@Reuters) February 4, 2015
It's been a tragic 12 months for Asia air travel disasters: http://t.co/wWXXqiWSdV#TransAsiapic.twitter.com/pIPYuMqrYB

— Telegraph News (@TelegraphNews) February 4, 2015