Jordan vows to avenge pilot's brutal execution
Comments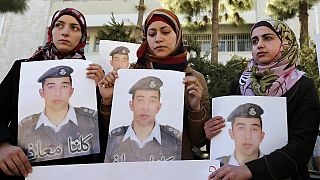 The widow of Mouath al-Kasaesbeh had waited in dread for more than a month to learn her husband's fate.
The Jordanian Air Force pilot was captured by the jihadist movement ISIL on 24th December, shot down with a missile over enemy territory.
He was burned alive in a cage on 3rd January, according to Jordanian security services, recording this on video which was released on Tuesday.
We spoke to a Jordanian former general, Fayez Doueri, asking his opinion why al-Kasaesbeh's captors chose to kill him like this, after previous prisoners were decapitated.
Doueri said: "Firstly, because he was military, and the others were civilian journalists or humanitarian workers. 'Shashtag', one of the leaders of ISIL, voiced the question on the day after the pilot was captured — what method of execution would set an example? I read some of the answers, saying make it an auto-de-fé [of condemned apostates], burn him."
Amman promised an 'earth-shaking' response. King Abdullah condemned the burning as a cowardly act of terrorism. He vowed to wage unrelenting war against ISIL.
How far can Jordan go?
According to Doueri: "Jordan will increase its cooperation with the western-led coalition against ISIL, increasing surgical air strikes against well-chosen positions or leaders. That is if Jordan can get highly precise intelligence. There is no way, for the moment, of getting into ground combat against ISIL. Conditions for that would have to be right, and Jordan doesn't have the resources for it. There would have to be pan-Arab and international support that doesn't exist. Jordan can't go off on an adventure more than 350 km from its own border."
The pilot's immolation, after it rallied Jordanians to their king, sent shock waves through all the Arab countries. The outrage and grieving have been shared; now to see what form of retaliation there might be against ISIL.