Jordan's military response to ISIL analysed
Comments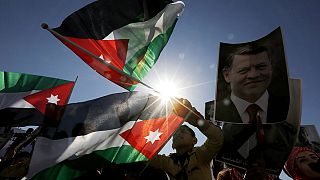 Jordan has declared war against ISIL, which begs the question, how far can Jordan support such a proposal?
To get a better idea, we spoke to our correspondent in the village of AY where the symbolic funeral is being held for the pilot killed by the insurgents, Mouath al-Kasaesbeh.
Euronews: Away from the anger felt on the streets in Jordan, what are the keys to success for a military operation?
Mohammed SheikhIbrahim: What we've been witnessing is solidarity on a huge scale. Emotions are running high after the tragic death of the Jordanian pilot, who has become a hero and a symbol in this war against terrorism and the Jordanians have agreed to unite against this type of organisation, especially since his particularly barbaric death has shocked everyone.
I think this marks a turning point, security sources have already said that Jordan will increase the number of airstrikes against ISIL but we are not yet talking about boots on the ground.
Euronews: What risks are attached to a declaration of war against ISIL?
Mohammed SheikhIbrahim: On the one hand there is a risk that comes from the borders to the north and the east of Jordan, especially the border with Syria and the one with Iraq, where members of ISIL are deployed. The danger can come from these places.
On the other hand it is likely that non-active ISIL cells exist in Jordan, people who sympathise with the terrorist group. They can finance it or help in other ways.