King of Jordan visits family of pilot murdered by ISIL
Comments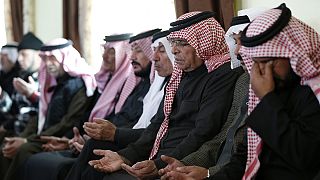 The King of Jordan has visited the family of the captured pilot murdered by ISIL militants.
King Abdullah II travelled to Karak, south of Amman, to present his condolences.
He also promised the family of Lieutenant Mouath al-Kaseasbeh that his death would be avenged.
The king vowed there would be what he calls a "harsh" war against ISIL.
"The response will be harsh because this terrorist organisation is not only fighting us but also fighting Islam and its pure values," he is quoted as saying.
There was shock around the world after militants released a video of the pilot being burned alive in a cage.
The pilot was captured after his jet crashed in Syria in December.
Jordan is one of the countries that joined a US-led military coalition that is carrying out airstrikes on ISIL targets.
King Jordan met with his military chiefs and other officials on Wednesday, promising to step up the campaign against ISIL.
Numerous Jordanian fighter jets were seen leaving on Thursday for what are believed to have been fresh airstrikes.
State of shock in Amman as Jordan seeks revenge http://t.co/Aq2ZwXDCqG

— euronews (@euronews) February 4, 2015