France and Germany present new peace plan for Ukraine
Comments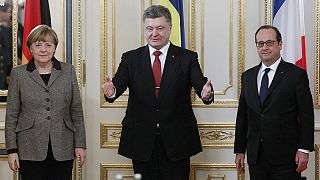 France and Germany have presented a new peace plan for Ukraine.
President Francois Hollande and Chancellor Angela Merkel put forward their proposal after talks in Kyiv with Ukraine's President Petro Poroshenko. They now plan to take it to Russia as soon as possible.
Their announcement followed a visit to the Ukrainian capital by the US Secretary of State John Kerry. He will not be going to Moscow but gave his full support to the Franco-German initiative.
"We want a diplomatic resolution but we cannot close our eyes to tanks that are crossing the border from Russia and coming into Ukraine. We can't close our eyes to Russian fighters in unmarked uniforms crossing the border and leading individual companies of so-called separatists in battle," said Kerry.
It is thought France and German want to return to lines agreed in a September truce but officials have given few details of the new proposals for fear of damaging the delicate diplomacy involved.
Peace talks collapsed on Saturday in Belarus and EU leaders are expected to consider new sanctions against Moscow next week.