Casualties rise in Ukraine as Hollande and Merkel launch new peace proposal
Comments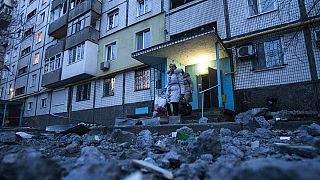 Locals inspected the damage after shells hit a residential area in the rebel-held city of Donetsk in eastern Ukraine.
As the fighting continues, so do the casualties. The pro-Russian fighters said seven civilians died in several areas around the city. Mortar rounds regularly fall in residential areas with separatists blaming the government.
Kyiv reported five soldiers were killed in the past 24 hours as the rebels attempted to encircle the key town of Debaltseve to the north of Donetsk.
The stadium which was host to the European championship in 2012, now serves as an aid hub, distributing essential food and medical supplies to those in need.
With the current ceasefire in tatters, the leaders of France and Germany have launched a new effort to find a peace deal acceptable to all parties and will travel to both Kyiv and Moscow by Friday.