Pro-Russian rebels claim control of another Ukrainian town
Comments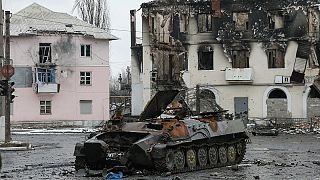 Pro-Russian separatists have been filmed carrying out patrols in a town they claim to have taken control of in eastern Ukraine.
Vuhlehirsk is not far from Debaltseve, a larger town the government in Kyiv is attempting to keep in the hands of Ukrainian forces.
Rebels have been advancing on the area, which is considered a key railway hub.
Many residents have now been evacuated from several towns in the line of fire.
At least five people are reported dead after the shelling of a hospital in rebel-controlled Donetsk.
Numerous people are reported to have been wounded.
One elderly woman was seen weeping at the scene. "There was a huge explosion," she said. "I was hit and fell down.
"My son was walking here (pointing to a body on the ground, covered with a sheet). That's my son!"
Eyewitnesses say at least one shell hit the building in territory controlled by pro-Russian separatists.
But other reports say two shells landed near the hospital.
At least one huge crater was seen in front of the building, known as Hospital Number 27, in a suburb in the south of the city.
Several bodies could be seen lying on the ground outside, covered with blankets.
"It was not one shell," said a local man. "They both fell together. It was a barrage because the first and second exploded at the same time."
Rebels are attempting to gain control of the town of Debaltseve near Donetsk, exchanging fire with government forces.
The separatists have been seen evacuating residents from the towns under their control.
Ukrainian soldiers have also been moving hundreds of people out of Debaltseve, which is between the separatist controlled Donetsk and Luhansk regions.
The death toll is rising fast in renewed fighting between government troops and rebels.
After more than 10 months of conflict, the number of dead now stands at more than 5,300.
The latest diplomatic efforts for a ceasefire collapsed in Belarus over the weekend.
Hundreds of civilians caught up in fighting in Ukraine being evacuated http://t.co/DcXGZatQ6j

— euronews (@euronews) February 3, 2015
Shell hit the #Donetsk hospital no.27. There r civilian casualties, numbers vary from 4 to 15 http://t.co/V7sony8wRhpic.twitter.com/BDyau93dSX

— EuroMaidan PR (@EuromaidanPR) February 4, 2015
Shelling in #Donetsk today killed 5 people and damaged a hospital, six schools and five kindergartens http://t.co/wMXV0NHahY

— Christopher Miller (@ChristopherJM) February 4, 2015
Debaltseve residents caught in the crossfire as Ukrainian crisis worsens http://t.co/pbQ6Rocpdu

— euronews (@euronews) February 4, 2015
In Eastern Ukraine killing of civilians worse http://t.co/b9×846nc3k

— euronews (@euronews) February 3, 2015