Kerry in Kyiv to discuss possible 'lethal aid' to Ukraine
Comments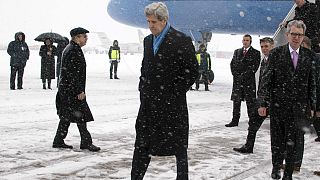 As the humanitarian crisis in eastern Ukraine deepens, US Secretary of State John Kerry is in Kyiv to meet with the Ukrainian president. The question on the table is whether America is willing to send weapons to Ukraine to help fight pro-Russian rebels.
Ahead of the meeting President Poroshenko appeared confident that the US would deliver 'lethal aid'.
"I don't have the slightest doubt about the weapons supply to Ukraine from the United States and our other partners. We have to have the ability to defend ourselves. Because the reputation that Ukraine has, its authority, is a responsible position and we're authorities of peace."
This comes after Ashton Carter, soon expected to be confirmed as the new US defence secretary, said he was inclined to start supplying weapons to Kyiv. Until now the US has supplied non-lethal military support such as night vision goggles, radars and Humvees.
Meanwhile, NATO is meeting in Brussels and is expected to announce a plan which would boost its military presence in Eastern Europe, increasing the risk of a confrontation with Russia.