Ukraine calls for more weapons as allies push for dialogue
Comments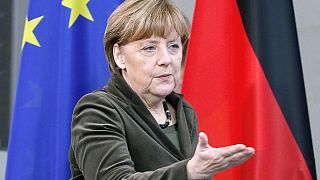 The Ukrainian President is waiting for more help from his Western allies, calling for weapons in the fight against pro-Russian separatists.
Dialogue is the only way to lead to peace and concord in this martyred land
But France says it will not provide any weapons for the moment, saying it prefers to focus on encouraging dialogue.
The US, which is still to decide on further help, is consulting European leaders, including the German Chancellor.
Angela Merkel said on Wednesday: "The situation has become much more serious. But the attempt at diplomatic dialogue must continue."
Ukraine's President Petro Poroshenko said he didn't have the "slightest doubt" that weapons would be supplied from the US and other partners.
"We have to have the ability to defend ourselves," he said.
"We can continue negotiations when we have a strong army, which is capable of defending the state, because nobody will respect a weakling.
"I have said many times that I'm a president of peace, not war."
The Pope has also called the conflict a war between Christians.
Calling for peace talks, he said more has to be done to get all sides back together.
"I renew my appeal until every force is used," said Pope Francis, "even at an international level, for dialogue to restart.
"This is the only way to lead to peace and concord in this martyred land."
The Pope said his thoughts go out to the victims, many of whom are civilians, saying the situation is worsening.
After 10 months after fighting in Ukraine, the death toll is now more than 5,300.