Babies found alive in rubble after deadly hospital blast
Comments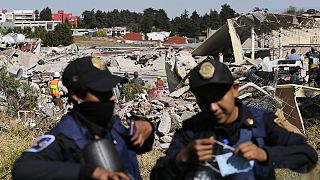 Two babies and a female nurse are now known to have died after a maternity hospital in Mexico was completely destroyed by a powerful gas explosion.
A newborn baby, just two weeks old, died at the scene along with the nurse. A second infant had been taken to another children's hospital and hours later died.
Several babies have been pulled alive from the rubble.
Enrique Pena Nieto, Mexican President visited dozens of people injured and bleeding from the blast at this hospital including 21 babies. He was joined by his wife and the Mexico City mayor.
"We were glad to see children in good health. The mothers had some injuries but overall were doing well. We also visited some children whose condition was unfortunately critical," said the president.
The explosion took place on Thursday morning when a gas tanker was filling up a fuel tank at the hospital kitchen and gas started to leak.
People had started to evacuate the Maternity and Children's of Cuajimal when the devastating blast happened.
Babies found alive in rubble after truck blast rips through Mexico hospital http://t.co/oHRSu9GAAg

— Reuters Top News (@Reuters) January 30, 2015