Greek novice government defies odds on debt
Comments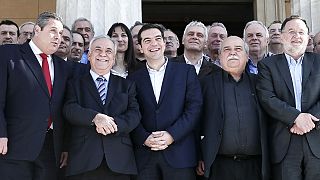 A team with almost no experience in government takes on daunting challenges for Greece as the euro zone's most heavily indebted member.
Clearly, in the end, there aren't a lot of options.
Led by Prime Minister Alexis Tsipras, it is determined to negotiate fresh terms for the expiring bailout deal backed by the European Union.
Giannis Dragasakis, the new deputy prime minister, served in cabinet for just four months, back in 1989, as deputy for finance.
Dragasakis will oversee debt negotiations with the European Commission, IMF and ECB Troika.
Only one other Tsipras team mate has any government experience: Panos Kammenos, in Defence, once deputy for shipping.
Yanis Varoufakis shoulders a most sensitive post as finance minister. This radical professor of economics describes himself as an 'erratic Marxist'.
Varoufakis accuses Brussels of turning Greece into a debt colony, and has said austerity is like 'fiscal waterboarding. He has pledged he will 'destroy the Greek oligarchy'.
To help with that, there is the head of the newly-created Transparency Ministry, Panayotis Nicoloudis, part of a broad-based government crackdown on tax evasion and corruption.
Nicoloudis will be responsible for coordinating the work of various agencies, ranging from the financial police to the economic prosecutor's office.
Finance Minister Varoufakis calls priority number one 'dealing with the humanitarian crisis' — the record unemployment and collapsing welfare system plunging many Greeks deep into poverty.
UNICEF reports that Greece – along with Iceland – has seen the biggest growth in child poverty since 2008.
Greek voters demanded that debt be written off, but backed by other northern European governments Germany opposes even a partial cancellation of what Greece owes.
That debt is now 175 percent of the country's income (GDP).
Convincing Brussels, and especially Berlin, to renegotiate the bailout deal will be the government's biggest challenge of all.
We spoke to Mathieu Plane, an economist with the French independent research body OFCE and a former government advisor, about this. Plane is known for his opposition to budget austerity, which matches the new Greek prime minister's assertion that it is his country's worst enemy.
Arzu Kayaoglu, euronews: "Mr Plane, austerity has never worked, either in Greece, Spain or France, so why do the IMF and the Troika keep applying it in Greece?"
Mathieu Plane: "Depending on the economy austerity's impact can be different. The European treaties on budget matters by their nature impose austerity policy. We see that the greater a country's difficulty the more they are asked to swiftly reduce their deficits and debts. That is the sin of this policy. We see it has been counterproductive for several countries. Sure, deficits and debts have to be reduced, but there's been this insistence that these countries do it too fast. Of course, the result is their growth has been impacted. Economic activity was seriously restricted and that led further into debt and deficit. One of the European Commission's errors is to have underestimated austerity's impact on growth. What's very interesting is that the IMF, which supported this policy in the beginning, has admitted that it got it wrong. The IMF made a mistaken analysis on austerity, and in the end the consequences were far stronger than was anticipated."
euronews: "Is austerity the only solution to worsening public finances? What alternatives could have been offered Greece to get it out of the crisis?"
Plane: "What do we mean by austerity? We see that Greek austerity was very strong and painful, remembering that economic activity plunged by 25 percent, 25 points in GDP, the equivalent of the depression we experienced in the 1930s, which in Greece's case meant unemployment of more than 30 percent, or close to that, and 50 percent for young people. Today's problem isn't really austerity, it's the intensity of the austerity. We could have policies that demand deficit reductions but which are sustainable, and above all accompanied by other types of policies, notably a monetary policy that is far more flexible, such as the United States managed to do. Europe's problem is that at the same as demanding an extremely strict budgetary policy and monetary policy that was less flexible than other countries — on top of that with a strong euro — we see that we had no lever for growth during the crisis."
euronews: "The alternatives to austerity mean that the core countries in Europe, notably the German and French economies, have to finance other countries' revival. But we just don't have the level of European integration needed for that, do we?"
Plane: "You're right, and this is the difficulty we face. Transfers between countries today remain very weak, and so clearly solidarity is lacking in Europe. Can we really live with a single currency if we don't have stronger budgetary integration? If we don't pool our debts? That's the real question. But that would mean some countries losing their sovereignty. It also requires major transfers of funds, especially from core countries in Europe, towards the periphery. It means a transfer of wealth, and that would have to have voters' approval. Clearly, in the end, there aren't a lot of options. We might move in the direction of more European fiscal integration. We could even consider a Europe-wide tax to fund the European budget and transfers. Unfortunately, if we have a real problem of coordination such as we see today, we still aren't protected from the risk of Greece leaving the euro zone — even a break-up of the euro zone. Yes, we need more Europe."