Rebel leader seeks end to Ukraine ceasefire talks
Comments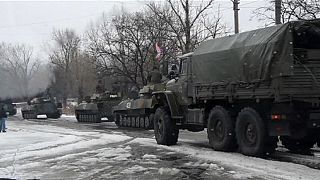 As fighting in eastern Ukraine intensifies, separatist leader Alexander Zakharchenko was quoted by Interfax news agency as saying he no longer planned to seek ceasefire talks with Kyiv authorities.
While Moscow pushes for all sides to come together, the rebels claim to hold more territory than was agreed under a ceasefire deal last September.
One rebel commander, who gave his name as 'Sever', said: "What ceasefire again? I don't understand. No ceasefire! They came and they have to die. Push them away, push them away, push them away."
The United Nations now puts the death toll in the conflict at more than 5,000 including 262 killed in the last 9 days.
Kyiv forces all but abandoned Donetsk International Airport when rebels took control after months of bitter battles.
Reopening the runway would allow the self-proclaimed Donetsk People's Republic establish a viable economic entity.
But pro-Kyiv forces have said they "are not giving up an inch of Ukraine."