'Russia needs to return Crimea to Ukraine,' says Kyiv official
Comments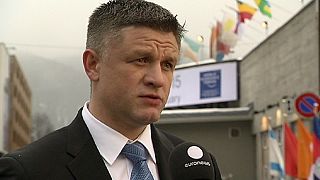 A high-level Ukrainian government advisor has told euronews that Russia needs to return Crimea to Ukraine.
Dmytro Shymkyv, Deputy Head of Ukraine's Presidential Administration, was speaking to euronews Correspondent Sarah Chappell at The World Economic Forum in Davos, Switzerland.
"Ukraine is right now at war with terror, backed by Russia and we need to make sure that Russia stops backing up terror. Russia needs to return Crimea to Ukraine. And this is a very important international position which is supported by the international community," he said.
When asked by our correspondent what he would say this afternoon to Russian President Vladimir Putin, Shymkyv said: "Leave us alone, let us define our destiny."
Meanwhile Putin has criticised Kyiv for its lack of response to Moscow's proposal to withdraw heavy weapons from the dividing line between government and rebel forces.
"Unfortunately not only did we not get any distinct answer to our suggestion, but we saw contrary actions. That is Kyiv authorities gave an official order to start full-scale military actions along almost the entire battle line."