At least 12 dead in shelling of Ukraine bus
Comments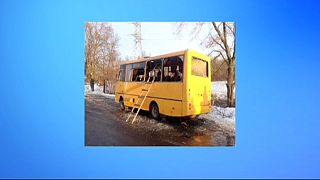 Ukraine has seen its hopes for peace shattered once again. At least 12 people were killed on Tuesday when shelling hit a passenger bus in the eastern city of Volnovakha, south of Donetsk.
Photographs show the bus riddled with holes, while a trail of blood runs along the road.
At least 13 were wounded, according to an administration spokesman.
He said the bus was attacked by rebels as it travelled through a government checkpoint.
Separatist leaders deny responsibility for the assault, claiming the incident occurred at a rebel-controlled border.