Valverde and Quintana to lead Movistar
Comments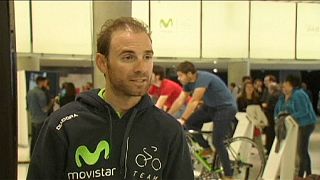 Movistar unveiled their cycling team for the 2015 season on Friday and confirmed Alejandro Valverde and Nairo Quintana will spearhead the outfit's assault on the major Tours.
The prestigious Tour de France remains the team's main objective for the season.
Giro d´Italia winner and 2013 Tour de France runner-up Quintana of Colombia will lead the team at this year's Tour while Spaniard Valverde will take the reigns for his home Vuelta a Espana.
At the presentation Valverde, the 2009 Tour of Spain winner, said: "Nairo gives me calm and I give it to him as well and we can do great. During the Tour I will be as close to him as possible and in the (Spanish) Vuelta he will be with me."
The Movistar Team, which has topped the World Tour rankings for the past two years, achieved 34 victories last season.
They will begin their 2015 campaign in the People´s Choice Classic in Australia later this month.