Suicide bomb attack at police station in Turkey
Comments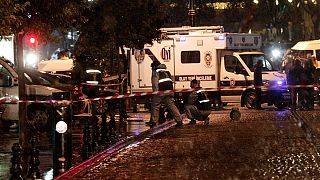 A female suicide bomber has blown herself up inside a police station in Istanbul, wounding two officers.
According to Turkish media one of the officers has died of his injuries.
The woman is said to have spoken English as she entered the building in the tourist hub of Sultanahmet, but her nationality and identity remain unknown.
There has been no immediate claim of responsibility, but it comes one week after far-left group DHKP-C said it was behind an attack on police near the prime minister's office in the city.
The Turkish prime minister said the authorities are investigating whether the suicide bomber was linked to any particular group.
A police cordon remains in place. Across the square from the attack stand the Aya Sofya museum and blue mosque, among the top tourist attractions in the city.