Palestinian teenager shot dead by Israeli soldiers for throwing rocks
Comments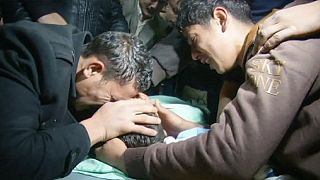 A Palestinian teenager has been shot dead by Israeli soldiers in the occupied West Bank.
The youth was part of a group accused of throwing rocks at motorists driving on a main road.
The army says the fatal shots were fired after warning shots were ignored.
It says the shooting is being investigated.
Another Palestinian, a 16-year-old, is also reported to have been wounded at the scene.
An Israeli military spokeswoman said troops shouted at the group of Palestinians throwing the rocks and fired warning shots.
The incident happened on a main road near Palestinian villages and Jewish settlements.
"Once they didn't comply they (the soldiers) responded to the threat with direct fire, wounding one of the attackers," said the spokeswoman.