Ebola financial symptoms could cost 3 billion euros in 2015
Comments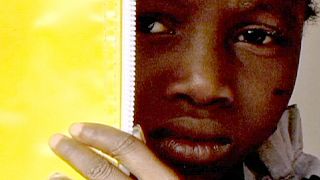 The Ebola outbreak in West Africa has devastated lives in three of the continent's poorest countries.
The World Bank says the cost of the outbreak to Sub-Saharan Africa's economy could reach the equivalent of three billion euros in 2015.
Daniel Richards is Senior Africa Analyst at Business Monitor.
"The worst affected sector we believe is the mining sector. This was a sector that was expected to power growth in these three countries over the coming years. A massive ramp up in investment in iron ore exports. The combination of the Ebola crisis and a drop in global iron ore prices has meant that has meant this sector has really been hit. Mines have closed in Sierra Leone. Two major mines have closed there. It's the restrictions on movement. Markets being closed, borders being closed."
The World Bank has pledged 200 million dollars to fight the crisis.
The virus claimed more than 6,300 lives during 2014. Most of the victims were in Guinea, Liberia and Sierra Leone.
Our #Ebola response in figures since the outbreak was declared. Find out more at http://t.co/H9qzoHStdDpic.twitter.com/N6r85HQ8jb

—

MSF

International (@MSF) December 19, 2014
In October, the World Health Organisation officially declared Nigeria Ebola-free.
But many people are avoiding the region.
"People don't want to travel to West Africa for meetings, for conferences, so while it is not a major catastrophe as it might have been had the virus spread in Nigeria, it has really hurt the region," explained Business Week's Daniel Richards.
Meanwhile the number of children whose parents succumbed to Ebola is growing.
a new hand print on the #Ebola survivors wall in the #MSF's treatment center in #Monrovia. The hand of little Joseph pic.twitter.com/BrlRrFXH22

—

MSF

International (@MSF) December 29, 2014
Although they are disease-free, thousands of orphans are some of the youngest victims of Ebola.